How it Started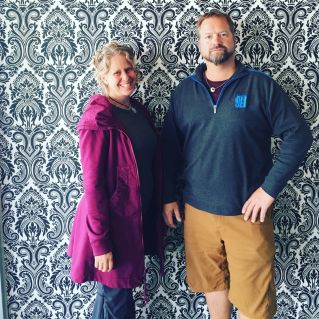 It started in 1991, Chris Nordin graduated from the College for Creative Studies with a major in Glass and a minor in metalworking. It was then he decided to work for the family steel business in southwest Detroit while building his own business that would revolve around glassblowing. Shortly thereafter Chris partnered with fellow artist Michelle Plucinsky to found an amazing company known as Furnace Hot Glass Works. Functional glassware with a 50's theme and Venetian overtones soon became their signature line. Over the years, this studio evolved into one of Michigans most renowned glass studios, producing work for a worldwide clientele with a focus on highly crafted functional glass, as well as Hospitality sculpture, lighting, Healthcare, and residential installations.
In 2001, Chris & Michelle realized that they were making much more than just some of the Midwest's best custom & production glass. This led them to change the name of the business to Furnace Design Studio LLC. Opening the door for the scope of what they were created to become much more diverse and specialized in the Healthcare and Hospitality industry. Out growing there space in Detroit in 2004 they purchased there current 15,000 SFT facility in "The little D" Dearborn Michigan just outside of Detroit. This expansion provoked the formation of their second business, the Glass Academy LLC.
Glass Academy was created to give its customers the opportunity to experience the glass and studio up close. Offering product classes and one of a kind signature shows. Designing and taking to production more than 25 signature products the entrepreneurs built a following of dedicated customers over the last 15 years that continue to collect, promote and keep the tradition alive.
At the same time in 2002, with the planning of the expansion of the studio, the serial entrepreneurs purchased the glassblowing facility at the Michigan Renaissance Festival. Creating the Royal Glassmakers LLC, allowed the co-founders to create a one of a kind glassblowing theater allowing yet thousands of customers to be educated about the glass arts and there thriving business just 1 hour south of Holy Mi. in the "Little D".
Fast forward to 2016, looking to expanding there educational shows and experiences to new venues and audiences they partnered with Cedar Fair Corp. to operate the glassblowing facility at Cedar Point, Sandusky Ohio. Glass Academy at Cedar Point LLC. This business offers demonstrations and shows along with production glassblowing.
After 28 years of being a serial entrepreneur, Chris has chosen to step back from the businesses he and his partner Michelle have created to focus on the artwork that is most satisfying to him. This would be the creation of Chris Nordin Studios. A company and time period that allows him to have a relationship with his clients that is more intimate and personal and that moves at a slightly slower pace. Every custom piece that he creates is about his client as much as it is about his experience and skills as a master glassblower and master craftsman. Chris enjoys expressing his creativity and ideas with Glass, Forged steel and metal fabrication as well as wood.
Please enjoy Chris's diverse portfolio of functional craft and sculptural fine art.